The digital interactive notebook has become my 'go to' strategy for instruction these days. In my Science class, prior to digitizing my notebooks, students used paper notebooks for the majority of their Science and Engineering Practices. These notebooks were set up and 'loosely' based on a structure shared in "Teaching Science with Interactive Notebooks" by Kellie Maracarelli.
What I REALLY liked about Kellie's structure was the INPUT/OUTPUT format that she developed. The INPUT section is information that the students glean from their explorations/investigations, and in some cases, from direct instruction. The OUTPUT section, however, is information that the students demonstrate or show.
As I began designing my own interactive notebook pages, I decided to draw upon Kellie's format but make a few changes. First, I adopted the INPUT/OUTPUT format, however, for my INPUT (information/directions/stimulus ) is on the left side of each notebook page. The OUTPUT, (student responses, drawings, observations, record keeping, notetaking), is on the right.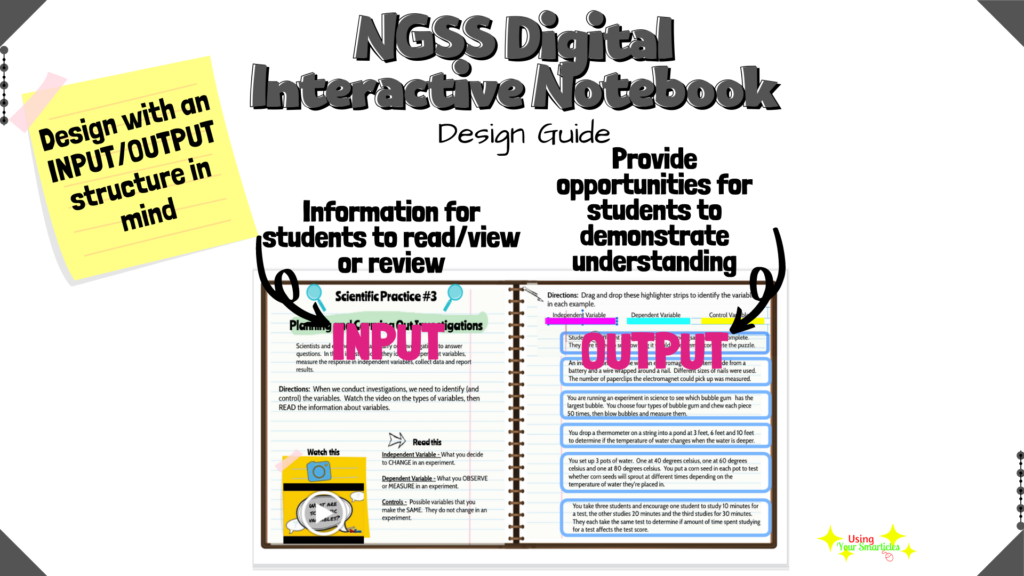 Staying true to the 5E Model was important to me as I converted my materials. By designing each page to align with a stage in the 5E process, I was able to guide myself through the instruction and keep up an inquiry based structure to my Science classroom.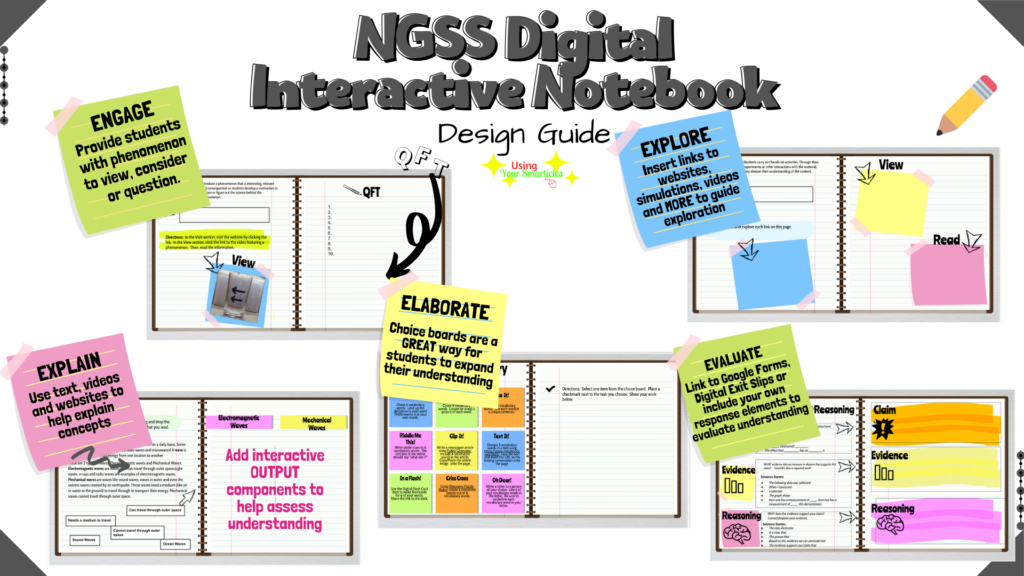 On the Engage pages, phenomenon images and/or video links are presented and students engage in the Question Formulation Technique. Following that, on the Explore pages, students are guided towards simulations that allow them to manipulate objects, make observations and investigate. Many times, I utilized the note, notice, wonder strategy for these explorations. You can see SEVERAL examples of these demonstrated here on my YouTube Channel.
The Explain pages provided text, video links and other directly informative material to connect the exploration to the understanding. The right side of the pages were developed with a HOST of interactive ways for students to demonstrate their understanding from open ended questions, word banks, drag and drop card sorts, true and false options and more.
Elaboration is where students began to connect their understanding to the phenomenon and other real world examples. Choice menus work EXTREMELY well for that. (Download a Interactive Notebook digital choice menu example here!).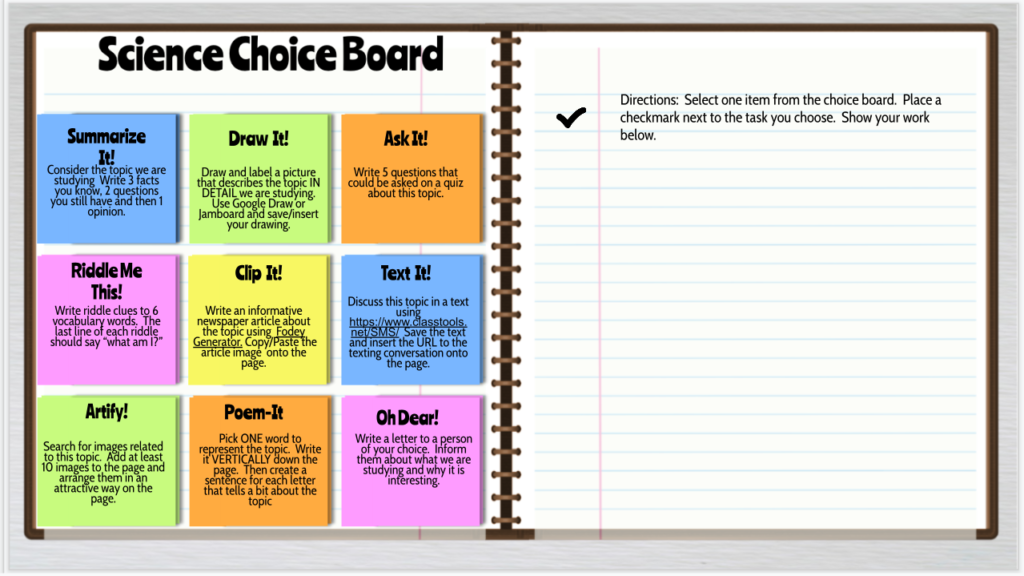 The final evaluation page depends on the Science and Engineering practice that you are focusing on. Below is an example of how I supported my students via the notebook using argumentation (Claim, Evidence, Reasoning).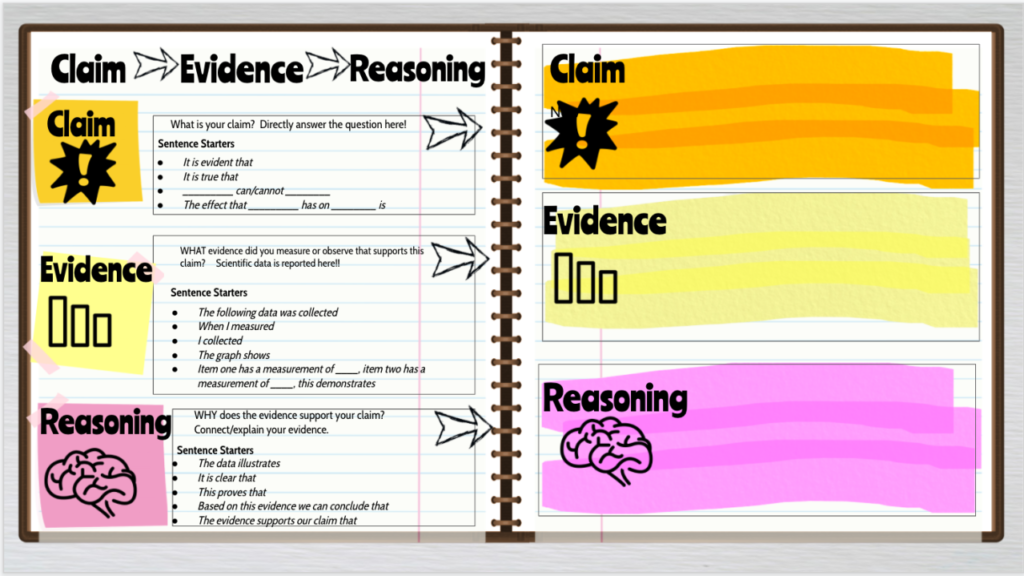 If you'd like the FREE Digital Interactive Notebok design guide as a PDF, click here:
As always, thanks for: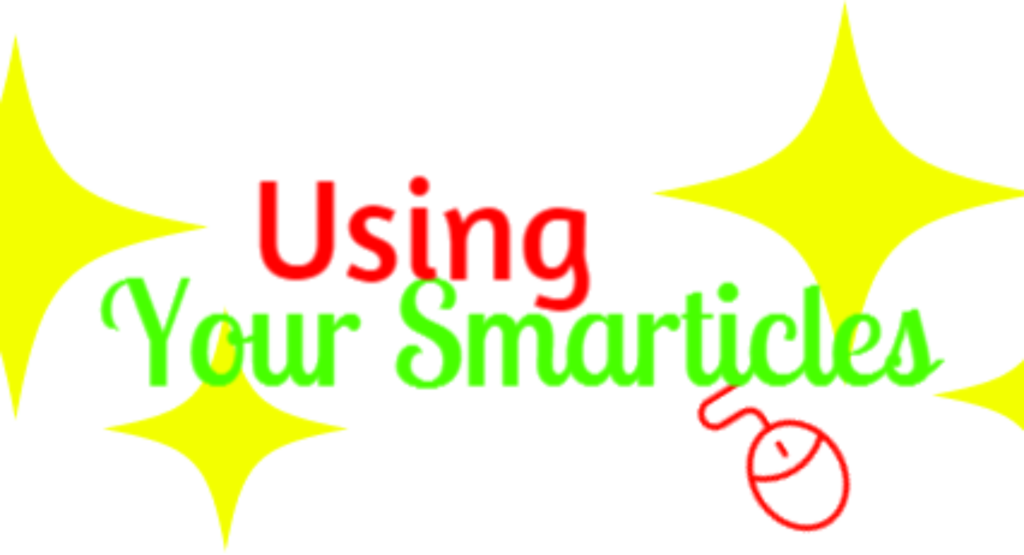 FREE ✨Smarticles!✨
Connect with ✨Your Smarticles✨ to get our latest content by email.