Merge Cubes are one of the hottest new trends in Educational Technology at the moment. Integrating AR/VR principles, a Merge Cube allows you to hold a hologram IN YOUR HAND!! The Merge Cube is basically an Augmented Reality trigger. Each side of the cube has a distinct pattern which is recognized by the Merge Cube suite of apps.
When a Merge Cube App is aimed at the cube, voila, it activates an augmented reality experience that you can share with your students. There are over 30 Merge Cube apps available. Some are free and some requirement payment per app. Of particular note is the Merge Explorer App which has a suite of curriculum aligned AR experiences for elementary through middle school. MERGE Explorer lets students investigate a smoking volcano, examine a great white shark, and hold the earth in the palm of their hands. They can even dissect a virtual frog!! The app is free and has many engaging AR experiences. The more robust NGSS aligned curriculum has a fee component. Learn more about the Merge EDU pricing structure HERE.
Did you know that Merge now offers a FREE printable cube template??
As the Merge Cube found its way into my Science and ELA classrooms, I really wanted to find an inexpensive way to integrate the awe that it inspires while not breaking my budget. As such, I focused on the FREE apps that Merge Cube offers. Downloading the Merge Explorer App gave me access to Galactic Explorer and I created a scavenger hunt so my students could explore the solar system.
Get Solar System Lesson Plan
Next I generated similar scavenger hunts for the study of the brain and heart. Again, using the free Merge Explorer App features, we studied Mr. Body and used the scavenger hunt so students could explore and learn.
Get the Brain Lesson Plan
Not to be ignored, I found there to be a LOT of options for using the Merge Cube in my ELA class. As such, I created some writing lessons to correspond two FREE Merge Cube Apps. First, students practice writing WITHOUT using the word "because" after they explored the building and design features in Dig!
Get the Writing Lesson Plan
Next, students dabbled in poetry after an augmented reality experience on Pirate Island that can be found in the Things! app.
Get the Poetry Lesson Plan
Merge Cube can be SO much fun! I hope you enjoy it no matter WHAT you try! Either way, you'll be
✨Using Your Smarticles✨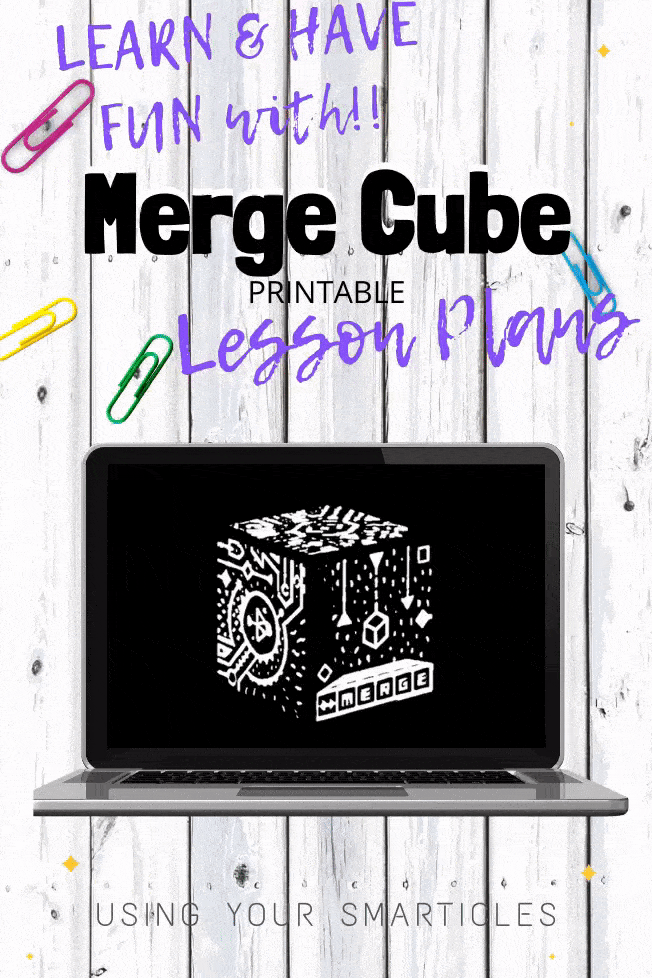 FREE ✨Smarticles!✨
Connect with ✨Your Smarticles✨ to get our latest content by email.